September 01, 2005
A little bit of Nawlins for you
I have been thinking of my trip to New Orleans. It was for a conference, but I also spent my birthday there during the trip, and I can't help but think of the afternoon of my birthday, and the 45 minutes my friend Heather and I spent at the Cafe du Monde, eating beignets and drinking Iced coffee, talking and laughing and having a wonderful time. It was one of the best times I've ever had on my birthday.
In honor of that day, straight from the Cafe du Monde, Beignets: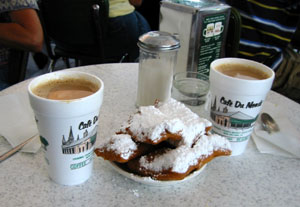 1/4 cup lukewarm water
1 package active dry yeast
1/4 cup granulated sugar
2 tablespoons vegetable shortening (shortening, not oil)
1/2 teaspoon salt
1/2 cup boiling water
1/2 cup heavy cream
1 egg, beaten
4 to 4 1/2 cups unsifted all-purpose flour
vegetable oil for deep frying (at CdM they use Louisiana Cottonseed Oil)
confectioners' (10X, powdered) sugar (lots and lots and lots!!!!)
Pour the lukewarm water in a shallow bowl and sprinkle the yeast over it. Allow the yeast to rest for 3 minutes, then mix well. Set in a warm, draft-free location (ie: an unlighted oven) for 10 minutes or until the yeast bubbles up and the mixture has almost doubled in bulk.
Meanwhile, combine the granulated sugar, shortening and salt in a deep mixing bowl. Add the boiling water and stir with a wooden spoon until thoroughly mixed and the beignet mixture has cooled to lukewarm. Add the heavy cream, the yeast mixture and the egg. Add 2 cups of flour, and when it's completely incorporated, beat in up to 2 1/2 cupsmore flour, 1/4 cup at a time. Add only enough flour to make the beignets dough smooth and not sticky. When the beignets dough becomes too stiff to stir with the spoon, work in the flour with your fingers.
Pour vegetable oil into a deep fryer to a depth of 2 or 3 inches and heat the oil until it reaches a temperature of 360 degrees f. If your deep fryer doesn't have a thermostat, check the temperature with a deep-frying thermometer.
Gather the beignets dough into a ball, put it on a lightly-floured surface and pat into a rectangle about 1" thick. Dust a little flour on both sides of the beignets dough and roll it out, lifting and turning after each pass, until the rectangle is about 1/4" thick and about 25" long by 10" wide. If your beignets dough sticks to the surface, lift it with a metal spatula and sprinkle more flour under it.
With a sharp knife, cut the dough into 10 square beignets and deep fry, 2 at a time, immediately by dropping them into the hot oil and turning them over with a slotted spoon the moment they rise to the surface. Continue frying, turning the beignets often. until the beignets are crisp and golden on all sides, about 3 to 5 minutes. When they are done, transfer the beignets to brown paper or paper towels to drain. Immediately sprinkle with the confectioners' sugar and serve while still warm. Use the picture (above) as a guide for how much confectioner's sugar to use!
September 02, 2005
September 06, 2005
September 07, 2005
September 08, 2005
September 09, 2005
September 10, 2005
September 12, 2005
September 13, 2005
September 14, 2005
September 15, 2005
September 16, 2005
September 17, 2005
September 18, 2005
September 19, 2005
September 20, 2005
September 21, 2005
September 22, 2005
September 23, 2005
September 24, 2005
September 25, 2005
September 26, 2005
September 27, 2005
September 28, 2005
September 29, 2005
September 30, 2005