May 05, 2009
So, we're back
Told you I wasn't dead. And you'll notice that Hammer, Penny, and Billy are gone, too. After an incredibly stressful time, both personally and professionally, it's time I stopped killing people in Mafia Wars on Facebook (although there's no way in hell I'm going to quit doing that), and started venting again.
However, I think there's going to be a serious change of focus. Yes, I'm still into politics, but frankly, I'm better than that. It seems like we can't even have a serious adult conversation where we agree to disagree unless we already KNOW EACH OTHER WELL ENOUGH TO HAVE ESTABLISHED RESPECT.
WTF? Isn't that the point of having a dialogue? That we can defend our ideas and hear what the other person thinks without thinking that they're "evil", "stupid". "religious", "stoned", or whatever other words we hurl at each other. And, frankly, since when did being a conservative make you an Ann Coulter or Michelle Malkin slurper? Or being a liberal mean that you have to be in lockstep with the Obama administration?
So while politics will be here every once in a while, I'm going to take a page from Shannon, (and wow, how weird is it to be blogging and call her Shannon?) and just blog about me and my life.
Right. So anyway. Let's catch up, shall we? Since I went on quasi-hiatus a lot has happened:
- The Tar Heels won the national championship in basketball
- I thought I was going to lose my job but it looks like that's on hold for a while
- Work went to hell and back and we made some serious changes to our administration
- My darling Princess turned 10 today. What the hell would I ever do without her?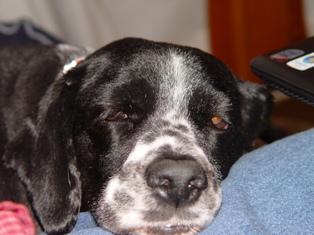 - I have managed to work through to level 161 in Mafia Wars. I can't tell you what a stress reliever it is to log in and kill people
- I was diagnosed as pre-diabetic/ diabetic despite a serious increase in my exercise program and losing a very significant amount of weight over the last year. My doctor thinks that it has something to do with my body reacting to the changes in my lifestyle and that by treating it aggressively we can knock it back and make it go away. Hopefully permanently. In the meantime my fingers look like a purple pincushion from testing my sugar at least 4 times a day.
-I don't doubt that the stress from my work situation has a LOT to do with the changes in my health over the last year
So I think that's about it. Everything else is pretty good. I have lots of pictures I need to post and more things to tell you about coming up.
Gee it's nice to be back.

Posted by caltechgirl at May 5, 2009 08:32 PM | TrackBack