October 29, 2008
Happy Blogiversary to me!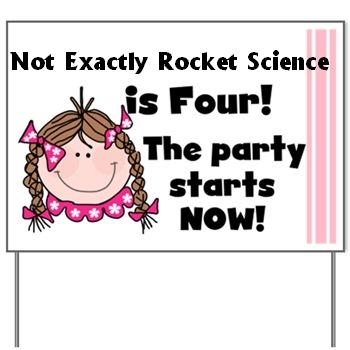 Four years (and over 300,000 hits!) ago today, after being dragged kicking and screaming, I opened up shop here at Not Exactly Rocket Science.
I'd been commenting and quasi-blogging for a couple of years by then, and a bunch of people were constantly on my case to just shut up on their bandwidth and get my own.
So I did. Obligatory sucky first post
here
. Yeah, I know it says 10/30, but trust me, it was 10/29 when I posted it. Blogger sucks.
And this is the result. The world has changed a lot over the last for years, and so has my life, but the blog has been a real constant.
So thanks, y'all for making my life a lot more interesting and putting up with me virtually for the past 4 years!
Posted by caltechgirl at October 29, 2008 09:57 AM | TrackBack