October 27, 2008
Dear African American "Community Leaders",
You are all a bunch of fucking hypocrites. That's right. I said hypocrites. I call BS on you and, as they say in South Park, I declare shenanigans!

Some idiot with bad taste and a worse sense of humor hangs a Sarah Palin doll from a noose and you don't respond? Dare I even suggest that you think it's funny because she's running against your Obamessiah?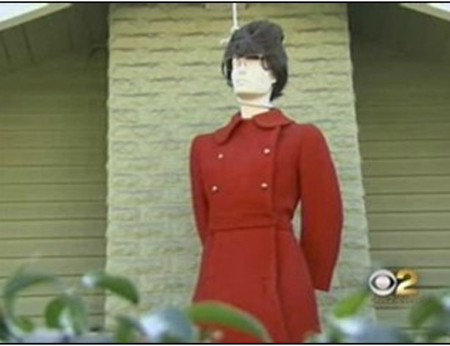 Correct me if I'm wrong, but about 10 years ago you all were so mad about a BEAR in a noose that you forced USC to abandon a decades old student tradition of hanging bruins (the UCLA mascot) from tiny nooses. LITTLE TINY TEDDY BEARS. In UCLA shirts. You said it was racist. You said that it was reminiscent of the lynching of black men by the KKK. You said you were offended. So we stopped hanging TEDDY BEARS.

I get your point, though. Hanging people is not a joke. It's MURDER. And that's never funny.

And now, these people have NOT A BEAR, but a life-size mannequin of a woman, dressed as Sarah Palin, hanging from a noose in their yard and you say not one word. Why?

I'll bet my house that if it was Barry Obama swinging from the yardarm you'd have had 3 press conferences already, and called the police out to arrest these homeowners for a hate crime. Perhaps for racial intimidation.

And yet you say nothing about this. I'm offended by it, and I'm clearly not black. Not as a conservative, or because I am a woman, but because I think it's disgusting. Hanging a bear, or a skeleton, or something clearly not representing a particular person is one thing, demonstrating by your Halloween display that you wish someone a painful death is quite another.

And I still want to hear your outrage. If you all could muster that kind of vitriol for a few teddy bears, I bet you can come out and preach it about this Sarah Palin mannequin.

I'll be sure to be there to support you when you do.

Regards,
CTG

h/t Flap

Posted by caltechgirl at October 27, 2008 08:08 AM | TrackBack