April 25, 2007
Keeping up with the Memers
Velocidude recently posted a cartoon short that was one of his favorites as a kid.
So I tried to find mine, but alas, it is NOT available on the web. Ugh.
You see, I was always a Merrie Melodies gal. Not so big on the Bugs Bunny and pals, but I loved the Mel Blanc shorts. My all time favorite is a bit from 1953 called "A Sheep in the Deep" starring Sam Sheepdog and Ralph Wolf, who many of you will recognize a an early version of Foghorn Leghorn's nemesis George P. Dog and Wile E. Coyote.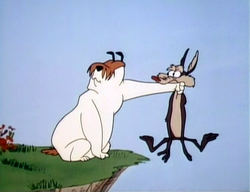 If you have never seen any of the series, the premise is that Sam and Ralph are buddies, except at work, where the sheepdog's job is to keep the wolf away from the sheep, and the wolf's job is to catch them. Sam and Ralph clock in and clock out every day.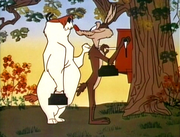 And to appease those of you who MUST have a video, my favorite of the modern Warner Bros. cartoons. Pinky and the Brain present "The Parts of the Brain:"
For the curious, this little ditty was actually part of my PhD thesis talk. No, really.
Posted by caltechgirl at April 25, 2007 11:38 AM | TrackBack