March 26, 2007
Tears in (Blue) Heaven for Carolina's Mascot
Rameses the Ram has died.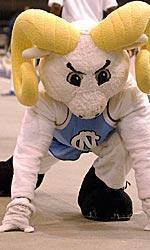 Jason Ray, the Carolina senior who portrayed mascot Rameses the Ram during sports and other events over the last three years has died today of injuries he sustained last week in a bizarre car crash just before the Tar Heels' Sweet Sixteen appearance in the NCAA tournament.
From ESPN.com:

Jason Ray [...] had been in critical condition since the accident on Route 4 on Friday afternoon. He had been in New Jersey for the men's NCAA Tournament game between North Carolina and Southern California at Continental Airlines Arena.

Steve Kirscher, UNC's associate athletics director for communications, said Ray died at 8:38 a.m. Monday.

According to police, Ray left his hotel to go to a nearby convenience store Friday afternoon, and was walking back along Route 4 when he was struck from behind by an SUV. The driver stopped immediately to call 911. No charges have been filed.

Police said Gagik Hovsepyan, 51, the driver who hit Ray, had a valid driver's license and did not appear to be under the influence of alcohol or drugs. His son was asleep in the SUV at the time, police said.
To be clear, Jason was dressed in street clothes and was well off the main roadway at the time of the accident.
Jason had played the part of Rameses Ram for three years and was about to graduate with a degree in Business Administration, and a minor in Religion. I myself have chased him around, hoping to get a picture with my favorite mascot.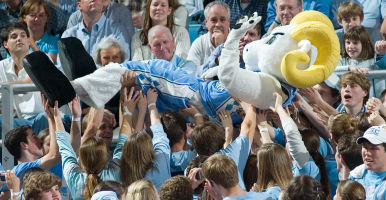 Jason Ray as Rameses crowd surfs at UNC basketball, Coutesy TarHeelBlue.com
Carolina's official sports web page, TarHeelBlue.com has a
nice tribute to Jason
written by Adam Lucas:
Communication, of course, is one of the hardest parts of being a mascot. That fall day at the Children's Hospital, Ray--as Rameses--walked up to me. His big paw was grasping a folded piece of paper, and he was making a motion I didn't understand.

I eventually figured out he wanted me to hold the paper for him until the event was over. Once all the kids had been hugged and the last picture had been taken, Rameses finally disappeared...and Jason Ray reappeared.

"Thanks for holding that picture," he said. As he unfolded it, he proudly displayed a child's drawing of Rameses.

"I'd like to take this with me, if that's OK," he told the program coordinator. "One of the patients gave it to me."

Then he walked out, big bulky trash bag in one hand, picture in the other. It was the perfect portrait of someone who had spent most of the day giving...and unexpectedly received something, too.
Jason was clearly that kind of person. It showed in the way he portrayed Rameses. Always kind to the children, funny with adults, willing to play the joke on himself if it entertained the crowd. I never met Jason, or his predecessors in the suit during my time at UNC, but I always wished I could let them know that I respected them as much as the players on the field or court. Being the mascot is a really tough job.
This is the second terrible roadside tragedy to hit the Tar Heel sports family in four years. Sideline reporter and UNC alum Stephen Gates was killed in a hit and run on the side of the interstate in Chapel Hill in October 2003.
This just highlights the importance of roadside safety. Be aware, use the sidewalk where possible, and remember Jason and Stephen.
God Bless the Ray family. Rest In Peace, Jason.

Posted by caltechgirl at March 26, 2007 10:55 AM | TrackBack