September 16, 2006
Out of place, much?
Hubby and I were doing some shopping today, and we went into a local home and decorating store. I was looking for a large casserole dish, so we went over to the kitchen section.

As we browsed the Clearance section, I noticed what clearly HAD to be a Wilton Armetale tray. These things just don't hang around long enough to make it to clearance, you know? I was intrigued to say the least.

So I asked him to pick it up: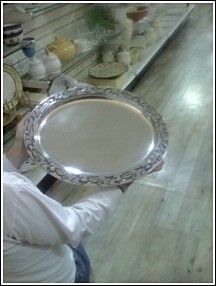 The pattern on the edge was a bit unusual, so I looked at it more closely: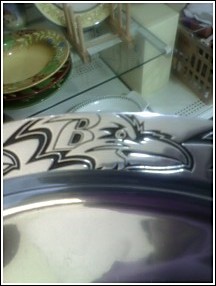 Yep, that's the
Baltimore Ravens
' logo. When we turned the tray over, it indeed said Wilton Armetale, but it also said "manufactured for Smyth and Co, Official Jewelers of the Baltimore Ravens".
So if you're a Ravens fan stuck in SoCal, and you'd like to have a fancy tailgate party, let me know and I'll tell you where you can find a nice serving tray for cheap.
BTW, nice pics for a camera phone, huh?
Posted by caltechgirl at September 16, 2006 04:52 PM | TrackBack