October 10, 2005
Sunburn? Check.
Yesterday, DH and I got up at oh-dark thirty and drove out to the boat house to meet Bill, Ed, Elizabeth, and Kate for a trip out to Catalina.
After a few hitches and a bit of electrical tape, we went out on the water. The weather was beautiful, with a light wind and moderate swells.
Of course, this means that we were bumping up and down through the swells. Note to self: Next time don't sit up on formerly broken tailbone..... I ended up having to lay down on the deck rather than land on my butt every 2 seconds.
We went to Two Harbors and then pulled Ed around on skis. Later we anchored in a cove where I distinguished myself by jumping in the water and having a system shock freak out. Then I did my best Sea Lion impression hauling myself back up into the boat and pinching my arm on the side of the boat.
Don't ask. I was utterly useless and pathetic yesterday. I feel bad for everyone that had to put up with me.
Then I treated myself to an hour's lie out on the deck to dry. Good thing no one got a shot of me with my face covered.....
Then we cruised down south of Avalon and back before coming back to LB. The ride back was actually better, a surprise since the seas are usually rougher in the afternoon.
Halfway back, we stopped and rode around, playing with these guys: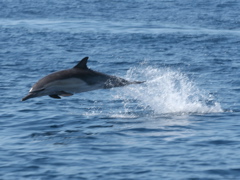 There was a large pod of perhaps 30 of them swimming up to the boat and playing in the wake.
The rest of the trip was uneventful except for a couple of wake crossings and Ed's hat flying off..... Sorry, dude!
Anyway, despite SPF 45 I am a mess. Well, half a mess. I look like Tommy Lee Jones as Two-Face, half white, half red. I was cozied up to the starboard side of the boat, and it shielded half of my body from the sun....
But it was totally worth it. Glad I don't have to go to work until next week :)
Bill has more great dolphin pics here....
Posted by caltechgirl at October 10, 2005 07:30 AM | TrackBack