July 01, 2005
OnThe Road AGAIN....
DH and I are in Harrison, OH: exactly 1 mile from what would be our 6th state of the day.... but that will have to wait until tomorrow.
For those of you keeping track, that's NC, VA, WV, KY, and now OH... and more different freeways than I can count....
The Princess has been very good so far, she even helped her Daddy get $$ today!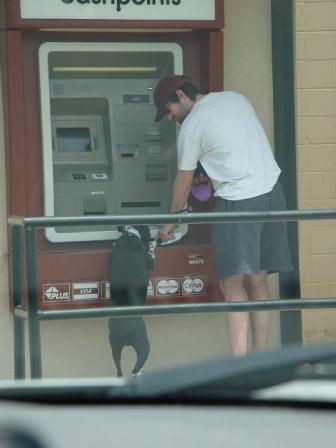 Next stop: La Crosse, WI, and if all goes well, dinner with my
blogchild
.
After that:
7/3 Rapid City, SD
7/4 Billings, MT
7/5 Spokane, WA and hoping to meet up with these folks
7/6 Medford, OR
7/7 Fresno, CA (my parent's house)
7/8 Pasadena, CA (to meet the potential landlords)
7/9 Fresno, CA.
You'll forgive me if I don't see you until the 10th or so :)
The moving went really, really well. The movers were really nice and very efficient and careful. I can't say enough how nice they were. It remains to be seen how well I like them after we get the stuff.....
One last funny before I go...
I couldn't get a photo of the sign because there was a truck in the way, but there is a State Park in KY called Big Bone Lick.... and it's in Richwood.
Draw your own conclusions.....
July 02, 2005
July 04, 2005
July 06, 2005
July 07, 2005
July 08, 2005
July 11, 2005
July 14, 2005
July 16, 2005
July 17, 2005
July 18, 2005
July 21, 2005
July 22, 2005
July 23, 2005
July 25, 2005
July 26, 2005
July 27, 2005
July 28, 2005